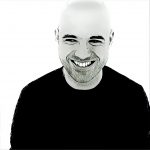 Stephen Laughton is a playwright and director for theatre and film who was born in 1981 and raised in Stourbridge, Worcestershire. He went to the Birmingham School of Speech and Drama and received a master's degree from the Central School of Speech and Drama in London.
Laughton was the associate producer of the film Unknown White Male (2005) which was shortlisted for an Academy Award. He also co-directed the short film Recompense (2011) which won the categories of Best Actor, Best Actress, and Best Directorial Debut at the New York Independent Film Festival.
Laughton's first play Marina Abramović is Staring at Me (2011) opened the Railroad Theatre in Newburgh, NY. In 2011/2012, Laughton was part of the Royal Court Theatre Invitational Writer's Group. In 2013, he took part in several development workshops with the Young Vic Theatre and SoundBites. His play 9 (Lives) (2015) was part of the PlayWROUGHT#3 Festival at the Arcola Theatre in London. The following play, Run, opened at the Vaults Festival in 2016 and went on to tour the UK until April 2017 to much critical acclaim. Well received was also his play SCREENS (2016) which opened at the Theatre 503. Laughton's 2016 short film RWD/FWD was nominated for a Drum Content Award and won the Long Form Charity Film Award in 2017. His most recent play is One Jewish Boy, with its premiere at the Old Red Lion Theatre in December 2018.
Plays
—. Run. Nick Hern Books, 2018.
—. One Jewish Boy. Nick Hern Books, 2018.