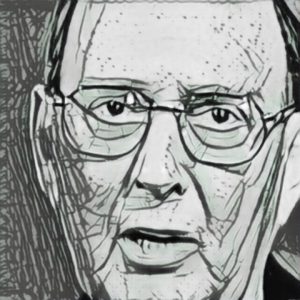 Harold Pinter was an actor, poet, and distinguished playwright who won the Nobel Prize for Literature in 2005. Pinter was born in Hackney, London in 1930 to Jewish parents of Eastern European descent that had immigrated to London from Portugal. He studied acting at the Royal Academy of Dramatic Art (RADA) and the Central School of Speech and Drama in London.
His debut play The Caretaker (1960) received much critical acclaim, but it was Pinter's 1965 play The Homecoming which won him a Tony Award in 1967 and was later turned into a film containing many of the original cast. Pinter himself became involved in the film industry, for example with his adaptation of The French Lieutenant's Woman (1981).
In later years, Pinter's theatrical work became increasingly political. In Mountain Language (1988), he criticised the treatment of the Kurdish people. He repeatedly voiced his opinion on the Iraq War, labeling both George Bush and Tony Blair as terrorists. These thoughts were comprised in a collection of poems called WAR (2003). In 2005, Pinter decided to stop writing plays and committed himself entirely to the creation of poetry.
During his lifetime, Pinter directed almost fifty productions for theatre and television. He won more than fifty awards, honours and prizes for his work throughout his career. In 1966, he was given a Commander of the Order of the British Empire (CBE) and, after declining a knighthood in 1996, became a Companion of Honour in 2002. In 2007, Pinter was awarded the Legion d'Honneur.
Harold Pinter died on 24th December 2008.
Plays
—. Plays 1: The Birthday Party; The Room; The Dumb Waiter; A Slight Ache; The Hothouse; A Night Out; The Black And White; The Examination. London: Faber and Faber, 1991.
—. Plays 2: The Caretaker; The Dwarfs; The Collection; The Lover; Night School; Trouble in The Works; The Black And White; Request Stop; Last To Go; Special Offer. London: Faber and Faber, 1996.
—. Plays 3: The Homecoming; Tea Party; The Basement; Landscape; Silence; Night; That's Your Trouble; That's All; Applicant; Interview; Dialogue For Three; Tea Party (Short Story); Old Times; No Man's Land. London: Faber and Faber, 1997.
—. Plays 4: Old Times; No Man's Land; Betrayal; Monologue; One for the Road; Mountain Language; Family Voices; A Kind of Alaska; Victoria Station; Precisely; The New World Order; Party Time. London: Faber and Faber, 1996.