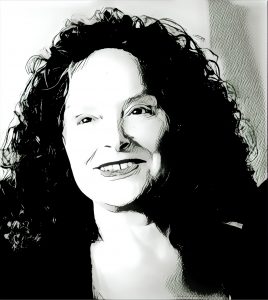 Julia Pascal is a playwright, theatre director and scholar. She trained as an actor and performed at The National Theatre, The Royal Court Theatre and in television, film, and radio. Pascal was the first female director at the National Theatre. As a playwright, her honours include a Fellowship from the National Endowment for Science, Technology and the Arts, and an Alfred Bradley BBC Award. Her plays have been performed internationally. She is best known for The Holocaust Trilogy (2000). The first play, Theresa, explores the fate of Theresia Steiner who was deported  from Guernsey in 1942. It revealed British collaboration with the Nazis on the Channel Islands. Theresa was followed by A Dead Woman on Holiday, set during the Nuremberg Trials. The third play of the trilogy is Pascal's adaptation of Shloyme Ansky's The Dybbuk. Her production toured Europe and travelled to New York. In 2007 she produced a modern adaptation of Shakespeare's The Merchant of Venice for the Arcola Theatre in London, later published as The Shylock Play (2009). Other dramas include The Yiddish Queen Lear (1999) and Woman in the Moon (2001). In 2003 she premiered Crossing Jerusalem at The Tricycle Theatre. The play is set in the last intifada. Twice successfully produced in London, it caused controversy at Miami's Michael Ann Russell Jewish Community Centre for its critique of Israel. Pascal has addressed provocative aspects of Jewish identity and challenges stereotypes, particularly those of Jewish women. In 2016 she completed her PhD from the University of York. Her thesis examines The Absence of Jewish Female Characters on the Postwar English Stage. All her plays are published by Oberon Books, the most recent volume being Political Plays (2013). She is currently researching a new drama: As Happy As God In France will focus on a meeting between Hannah Arendt, Eva Daube and Charlotte Salomon in Vichy's Gurs internment camp. This will be produced in 2019-2020. Pascal's new play Blueprint Medea premiered at the Finborough Theatre in May 2019. Loosely based on Euripides' Medea, it is a play about a Kurdish freedom fighter from Turkey who comes to London as a refugee.
For more information visit http://www.juliapascal.org/wordpress/category/news/.
Plays
—. The Holocaust Trilogy: The Dybbuk; Dead Woman on Holiday; Theresa. London: Oberon Books, 2000.
—. The Yiddish Queen Lear; Woman in the Moon. London: Oberon Books, 2001.
—. Crossing Jerusalem; Year Zero; The Golem; St. Joan. London: Oberon Books, 2003.
—. The Shylock Play. London: Oberon Books, 2007.
—. Political Plays: Honeypot; Broken English; Ninevah; Woman on the Bridge. London: Oberon Books, 2013.