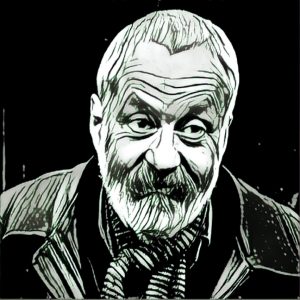 Mike Leigh is a director and playwright who was born in Brocket Hall, Hatfield in 1943. He was raised in a Jewish home in Salford within the Manchester Jewish community.
Leigh was educated at the Salford Grammar School and won a scholarship to RADA to train as an actor. He continued his studies at various institutions including the Camberwell School of Arts and Crafts, the Central Saint Martin's College of Art and Design, and the London School of Film Technique.
In 1965, he held a position as an assistant director at the Midlands Art Centre in Birmingham where he innovated the idea of writing and rehearsing in one process. In 1966/67, he worked as an assistant director for the Royal Shakespeare Company on productions of Macbeth and The Taming of the Shrew. He then went on to direct a number of plays in London before returning to Manchester to conduct drama classes at a women's training college. During this time, he also directed two big-cast productions for the Manchester Youth Theatre Big Basil (1969) and Glum Victoria and the Lad with Specs (1969).
In the 1970s, Leigh directed nine television plays including Nuts in May (1975) and Abigail's Party (1977). After the death of his father in 1985 Leigh's career slowed and he took up a teaching post at the Australian Film School in Sydney.
Upon his return to the UK, Leigh and Simon Channing Williams founded the film company Thin Man Films in 1988. His films include High Hopes (1988), Naked (1993), and Vera Drake (2004).
Leigh's play Two Thousand Years (2005), which opened at the National Theatre, focuses on a left-wing secular Jewish family in contemporary Britain and the divisions within the family that occur when its youngest member turns more and more towards religion. Leigh mentions in a foreword to the play that this was the first time that he drew on his Jewish origin as a source of inspiration.
Leigh has won numerous awards for his work. At Cannes he won Best Director for Naked in 1993 and the Palme d'Or in 1996 for Secrets & Lies. In 2004, Vera Drake won the Leone d'Oro for the Best Film at the International Venice Film Festival. Leigh has been nominated seven times for an Academy Award, twice each (Best Original Screenplay and Best Directing) for Vera Drake and Secrets & Lies, as well as Best Screenplay for Topsy-Turvy (1999), Happy-Go-Lucky (2008), and Another Year (2010). He became a Fellow of the Royal Society of Literature in 2008 and was the Jury President of the 62nd Berlin International Film Festival in 2012.
Plays
—. Goose-Pimples. London: Samuel French, 1982.
—. Smelling a Rat. London: Nick Hern Books, 1997.
—. Two Thousand Years. London: Faber and Faber, 2006.
—. Grief. London: Faber and Faber, 2011.
—. Ecstasy. London: Nick Hern Books, 2012.
—. Abigail's Party. New York: Viking, 2018.