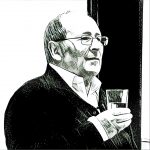 Arnold Wesker was a dramatist and author who made significant contributions to drama, not only in Britain, but also worldwide. His works include poetry, a number of short stories, books, essays, and fifty plays, which have been translated into more than twenty languages. He was born in London in 1932. His family were Jewish communists and spoke Yiddish. Before being evacuated due to the war, Wesker went to a Jewish Infants School in Whitechapel. He was later accepted into the Royal Academy of Dramatic Art but had to turn down his place because he could not afford the fees. Wesker is best known for giving the Jewish religion recognition in British theatre.
His most renowned dramatic works includes the trilogy Chicken Soup with Barley (1958), which tells the story of an East End Jewish family fighting the Blackshirts in 1936, Roots (1959), which celebrates early feminist Beatie Bryant's move to independence, and I'm Talking About Jerusalem (1960).
Wesker received much attention for his play Shylock (1976), a retelling of Shakespeare's The Merchant of Venice. In his play Shylock and Antonio are close friends and share a disdain for the antisemitism shown in the Christian society.
Wesker founded the Roundhouse's first theatre in 1964. He also co-founded the Writer's & Reader's Publishing Cooperative Ltd in 1974. In 2005, Wesker wrote his first novel Honey, a children's book about Beatie Byrant, the heroine from his play Roots. Wesker continued to write late into his life, despite suffering with Parkinson disease, and produced a collection of poems All Things Tire of Themselves which was published in 2008.
Wesker recieved a knighthood in 2006 for his accomplishments and contributions to theatre. He died in 2016.
Plays
—. Plays: 1: The Wesker Trilogy: Chicken Soup With Barley; Roots; I'm Talking About Jerusalem. London: Methuen Drama, 2001.
—. Plays: 2: Annie Wobbler; Yardsale; Four Portraits of Mothers; Betty Lemon?; The Mistress; Letter to a Daughter. London: Methuen Drama, 2001.
—. The Merchant. London: Methuen Drama, 2003.
—. Wesker's Love Plays: The Four Seasons; Love Letters on Blue Paper; Lady Othello. London: Oberon Books, 2007.
—. Wesker's Social Plays: Denial; When God Wanted a Son; The Rocking Horse Kid; The Kitchen. London: Oberon Books, 2009.
—. Wesker's Political Plays: Chips With Everything; Their Very Own And Golden City; The Journalists; Badenheim 1939; Phoenix Phoenix, Burning Bright. London: Oberon Books, 2010.
—. Joy and Tyranny. London: Oberon Books, 2011.
—. Wesker's Comedies: The Wedding Feast; One More Ride On the Merry-Go-Round; Groupie; The Old Ones. London: Oberon Books, 2012.
—. Wesker's Domestic Plays: The Friends; Bluey; Men Die Women Survive; Wild Spring. London: Oberon Books, 2012.
—. Wesker's Historical Plays: Shylock; Blood Libel; Longitude; Caritas. London: Oberon Books, 2012.