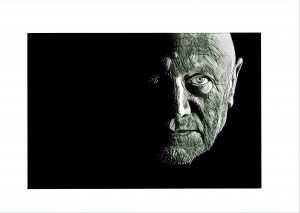 Steven Berkoff is an actor, author, playwright and theatre director. He was born in the East End of London to a Jewish family with Russian and Romanian backgrounds. He was educated at the Webber Douglas Academy of Dramatic Art (1958) and L'École Internationale de Théâtre Jacques Lecoq (1965).
Berkoff began his active theatre training at the Repertory Company at Her Majesty's Theatre in 1962. As a dramatist his earliest plays featured adaptations of works by Franz Kafka, namely The Metamorphosis (1969) and The Trial (1971). During the 1970s and 1980s his focus turned to verse plays including East (1975), Decadence (1981), and Sink the Belgrano! (1986). His solo play Shakespeare's Villains (1998) was nominated for a Society of London Theatre Laurence Olivier Award for Best Entertainment.
Berkoff has had a successful career in both film and television. His most notable roles as an actor were the Soviet General Orlov in the James Bond film Octopussy (1983) and the corrupt art dealer Victor Maitland in Beverley Hills Cop (1984). His more recent roles have featured the antagonist in The Tourist (2010). Berkoff has also held multiple television roles with a variety of characters, including Adolf Hitler in the mini-series War and Remembrance (1989).
Berkoff has written and spoken about his support for Jews and Israel. He has voiced his opinion on the Gaza War (2008-2009) and resulting anti-Israel sentiment. He has also criticised right-wing Israeli politicians and the role of Jews within British theatre. Berkoff has also expressed his support for the Habima, Israel's national theatre, performing in London.
With his dramatic monologue Harvey, Berkoff explores the mindset of the disgraced Hollywood film mogul Harvey Weinstein. The one-man show premiered at London's Playground Theatre in February 2019.
Plays & Autobiographies
—. Playscript: Three Theatre Adaptations from Franz Kafka: The Trial; Metamorphosis; In the Penal Colony. Charlbury: Amber Lane Press, 1988.
—. Agamemnon. Charlbury: Amber Lane Press, 1990.
—. I Am Hamlet. London: Faber and Faber, 1989.
—. Theatre of Steven Berkoff. London: Methuen Drama, 1993.
—. Meditations on Metamorphosis. London: Faber and Faber, 1995.
—. Overview. London: Faber and Faber, 1995.
—. Free Association: An Autobiography. London: Faber and Faber, 1996.
—. Plays 2: Decadence. Kvetch. Acapulco. Harry's Christmas. Brighton Beach Scumbags. Dahling You Were Marvellous. Dog. Actor. London: Faber and Faber, 1996.
—. Graft: Tales of an Actor. London: Oberon Books, 2000.
—. Plays 1: East. West. Greek. Sink the Belgrano!. Massage. Lunch. The Bow of Ulysses. Sturm und Drang. London: Faber and Faber, 2000.
—. Plays 3: Ritual in Blood. Messiah. Oedipus. London: Faber and Faber, 2000.
—. The Secret Love Life of Ophelia. London: Faber and Faber, 2001.
—. Tough Acts. London: Robson Press, 2003.
—. Sit and Shiver. London: Faber and Faber, 2006.
—. Richard II in New York. Bury St Edmunds: abramis, 2008.
—. Diary of a Juvenile Delinquent: A Memoir. London: JR Books, 2010.
—. One Act Plays. London: Methuen Drama, 2013.
—. Greek and Decadence. London: Faber and Faber, 2018.