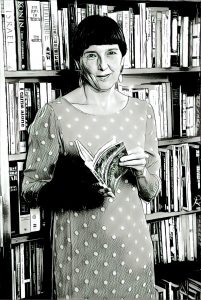 Diane Samuels is a playwright who was born in Liverpool to a Jewish family in 1960. She studied History at the University of Cambridge before gaining a PGCE in Drama at Goldsmiths University. Following her studies, Samuels worked as an education officer at the Unicorn Theatre for children and as a drama teacher in various schools, before turning to full-time writing in 1992.
Since then Samuels has produced numerous works in a variety of media, which largely revolve around the theme of Jewish historic experiences. Her most famous play Kindertransport (1993) tells the story of Jewish children who were offered safety in Britain following the increasingly violent affairs in Nazi Germany. The play depicts the children's struggle to integrate into British society and displays the range of British emotions towards the influx of Jewish refugees. It was translated into many languages, adapted for radio, and continues to be performed across the world. Among Samuels' latest work is the modern opera Song of Dina, which premiered at St James in Paddington in April 2019.
Samuels also conducts dramatic writing workshops at various British universities and schools, and reviews children's literature for the Guardian newspaper. She is a member of the Exiled Writers INK group Across the Divide for Jewish, Muslim, Israeli and Palestinian writers.
For more information visit https://www.dianesamuels.space/about.
Plays
—. The True Life of Fiction of Mata Hari. London: Nick Hern Books, 2002.
—. with Tracy-Ann Oberman. Three Sisters on Hope Street. London: Nick Hern Books, 2008.
—. Kindertransport. London: Nick Hern Books, 2008.