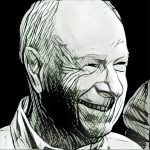 Peter Stephen Paul Brook is a highly influential contemporary theatre and film director whose experimental productions contributed significantly to the development of 20th century avant-garde theatre. He was born in 1925 in Chiswick, London, to parents of Jewish origin from Latvia. Brook was educated at Westminster School, Gresham's School, and Magdalen College, Oxford. In 1951, he married the actress Natasha Parry with whom he has two children, Irina Brook, an actress and director, and Simon Brook, a film director.
Michael Billington of the Guardian divides Brook's work into two phases: a "British Brook who from 1945 to the early 1970s staged Shakespeare, opera, musicals, new plays and even commercial comedies with fizzing elan" and an "international Brook" who has been based in Paris since the 1970s and "who has been involved in a quest to discover the essence of theatre and who, in projects such as The Man Who and The Valley of Astonishment, has used the medium to examine the working of the human brain." (2015)
Brook is probably best known for his experimental work with the Royal Shakespeare Company and his influential book The Empty Space. A Book About the Theatre: Deadly, Holy, Rough, Immediate (1968), which Paul Taylor of the Independent called "the bible for 1960s theatre's revolutionaries" (2008).
In the early 1970s, together with Micheline Rozan, Brook founded the International Centre for Theatre Research in Paris, which from 1974 onward cooperated with the Théâtre des Bouffes du Nord. In 2011, Brook stepped down as the artistic director of the Théâtre des Bouffes du Nord.
Brook has received numerous international awards and honours, among them: Commander of the British Empire (CBE), a Common Wealth Award, Companion of Honour, Tony and Emmy Awards, a Laurence Olivier Award, the Praemium Imperiale, the Henrik-Ibsen-Preis, and a Lifetime Achievement Award.
Primary Literature
—. The Empty Space. New York: Atheneum, 1968.
—. The Shifting Point: Forty Years of Theatrical Exploration, 1946-1987. London: Methuen Drama, 1989.
—. The Shifting Point: Theatre, Film, Opera 1946-1987. New York: Theatre Communications Group, 1994.
—. There Are No Secrets: Thoughts on Acting and Theatre. London: Methuen, 1994.
—. Threads of Time: Recollections. Berkeley: Counterpoint, 1998.
—. Evoking and Forgetting Shakespeare. London: Nick Hern Books, 2002.
—. The Open Door: Thoughts on Acting and Theatre. New York: Anchor Books, 2005.
—. The Man Who: A Theatrical Research. London: Methuen Drama, 2008.
—. The Quality of Mercy: Reflections on Shakespeare. New York: Theatre Communications Group, 2014.
—. Tip of the Tongue: Reflections on Language and Meaning. London: Nick Hern Books, 2018.