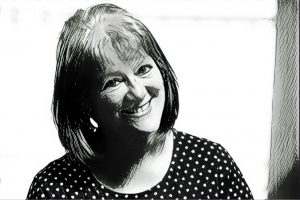 Gail Louw is a playwright who was born in Johannesburg and now lives in Hove, East Sussex. Her plays have been staged in the UK, the USA, South Africa, Australia, and Germany.
Louw's best-known play Blonde Poison focuses on the (true) World War II story of a Jewish woman called Stella Kuebler-Goldschlag. After having been betrayed and tortured in war-torn Berlin, Stella chooses to cooperate with the Gestapo and inform on other Jews in hiding in order to save herself and her family from the death camps. She ends up informing on close to 3,000 fellow Jews. Decades after the war, Stella agrees to be interviewed by a journalist on her activities during the war. Blonde Poison is a one-woman play that powerfully examines the motivation of evil and has been performed on stages across the globe ever since its premiere in 2011. It has received numerous positive reviews and awards such as Winner of the Argus Angel Award for artistic excellence at the Brighton Festival and Fringe in 2012 or Best in Fest at the San Francisco Fringe Festival in 2016. In 2018, it had a successful run at the Brotfabrik Berlin and was brought back in 2019.
Other plays by Louw include the one-man play Mr Laurel, based on the life of the comedy star Stan Laurel, which she co-authored with Jeffrey Holland and which premiered at the Gatehouse, London as part of the Camden Fringe in 2013 before successfully touring the country. Other plays are Duwane, which won the 2014 New Writing South/Brighton Fringe Best Play Award, Herschel, Joe ho ho, Killing Faith, Shackleton's Carpenter (2014), Miss Dietrich Regrets (2015), The Half Life of Love (2016), Two Sisters, which premiered in 2010 and was recently performed at five UK venues in February and March 2017, and The Mitfords, which toured the UK from November 2017 to February 2018. Amongst her latest plays is also A Life Twice Given (October 2019).
For more information visit https://gail-louw.net.
Plays
—. Blonde Poison. London. Oberon Books, 2013.
—. Collected Plays: Blonde Poison; Miss Dietrich Regrets; Shackelton's Carpenter; Two Sisters. London: Oberon Books, 2016. 
—. Plays 2: Duwayne; The Mitfords; The Half Life Of Love; Joe Ho Ho. London: Oberon Books, 2018.